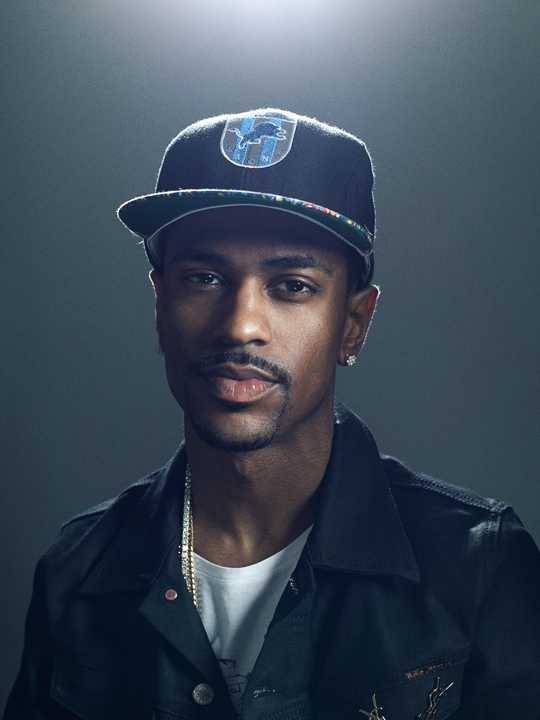 Detroit, MI
by Steven J. Horowitz
Photography by Gray Hamner
Big Sean never made it as far in the education system as his mentor Kanye West. As a high school senior with a 3.7 GPA, the Detroit native reached the tipping point in his hopeful rap career after 'Ye – the most famed college dropout of them all – offered to sign him to his famed imprint, G.O.O.D. Music. The only catch? Ditch higher learning and bet on success.
"It was a really hard thing, man," recalls the 23-year-old, who weaseled his way into Kanye's good graces with an impromptu freestyle in a radio station lobby. "It took over a year just to get the deal done. I was flat broke, spending all my money on studio sessions trying to get music done. It was a real test of my faith."
And that was only the beginning. The laidback MC, née Sean Anderson, spent the next six years cranking out studio quality mixtapes, catching enough momentum to secure a summer street date for his solo debut Finally Famous. Executive produced by No I.D., the Def Jam release calls on additional beat contributions and guest features from 'Ye, Pharrell Williams and Chris Brown, who appears on his first charting single "My Last" – a hit that almost didn't happen.
"That's a record I didn't even want to do at first," he admits. "No I.D. was like, 'Just do it!' It ended up being a real good song. It doesn't really follow too many trends that are on the radio right now."
The Auto-Tune deficit doesn't necessarily balance out the bottle-poppin' lyrics, but Sean promises to dig deeper on . "I think the album tells the story of a kid who realized what he wanted to do in life and started living out his dreams," he says. "But in the process, he falls in and out of love, goes through domestic love. The real shit, man. And of course, he parties hard, he gets drunk, he gets high – off life."
For a Michigan upstart, he's got enough career milestones to catch a perma-high. Infected with the rap bug as far back as kindergarten ("I remember all the fine girls in my class liked all the rappers"), Sean took notes from Tupac, Notorious B.I.G. and Ma$e, sharpening his lyrical tongue through high school before inking a deal with G.O.O.D. Music. Building his movement from the ground up with his mixtape series, Sean went from living in his mom's house to selling out shows across the country. But labels were still playing hardball.
"My perception was that when you get a record deal, you put out a song and it gets on the radio and everything's cool. And it wasn't like that at all, man," he confesses. "My label was coming to me like, 'Yo, you gotta turn your buzz up. You've got to get it going.' And I was like, what the hell are you talking about?"
Now, he gets the picture. With his debut zooming into stores this month, Sean plans on dipping a toe back into the mixtape game with another giveaway in tow. With talk of a G.O.O.D. Music tour and a subsequent label compilation, he isn't cashing in his chips all at once.
"There's a whole bunch of shit I want to do," he explains. "Music, of course, is my first love, but whatever really comes my way, we're going to take it. I'm excited to take over the game with such a powerful family."